Brand Name:

VEVOR

Origin:

Mainland China

Certification:

CE

Material:

Aluminum

Water Injection Mode:

Low

Power:

1200W

Polishing Wheel Diameter:

4" / 100 mm

No-Load Speed:

1100 - 4200 RPM

Output Thread:

M14

Adjustable Shift Gears:

6

Water Injection Holes:

3
Product Description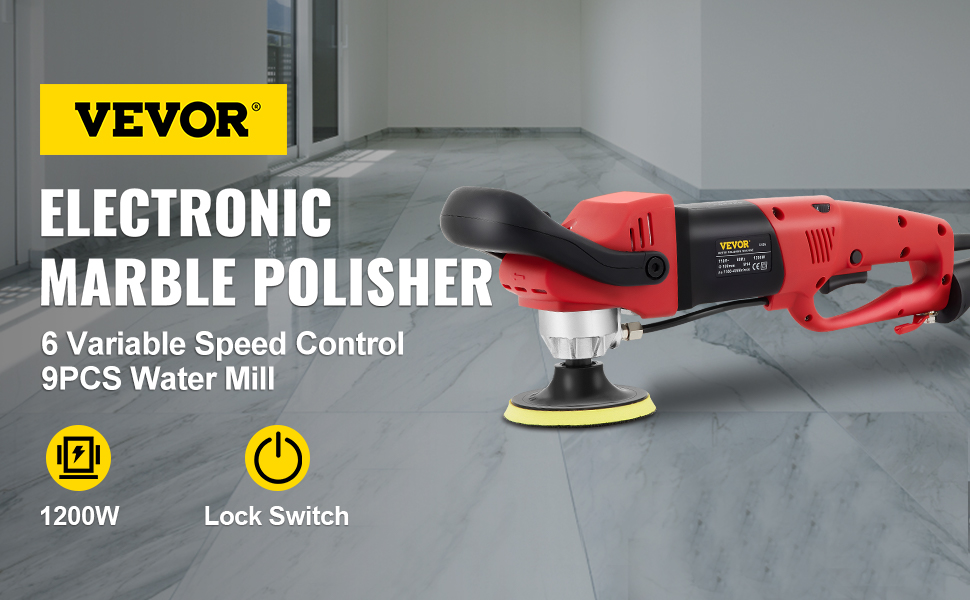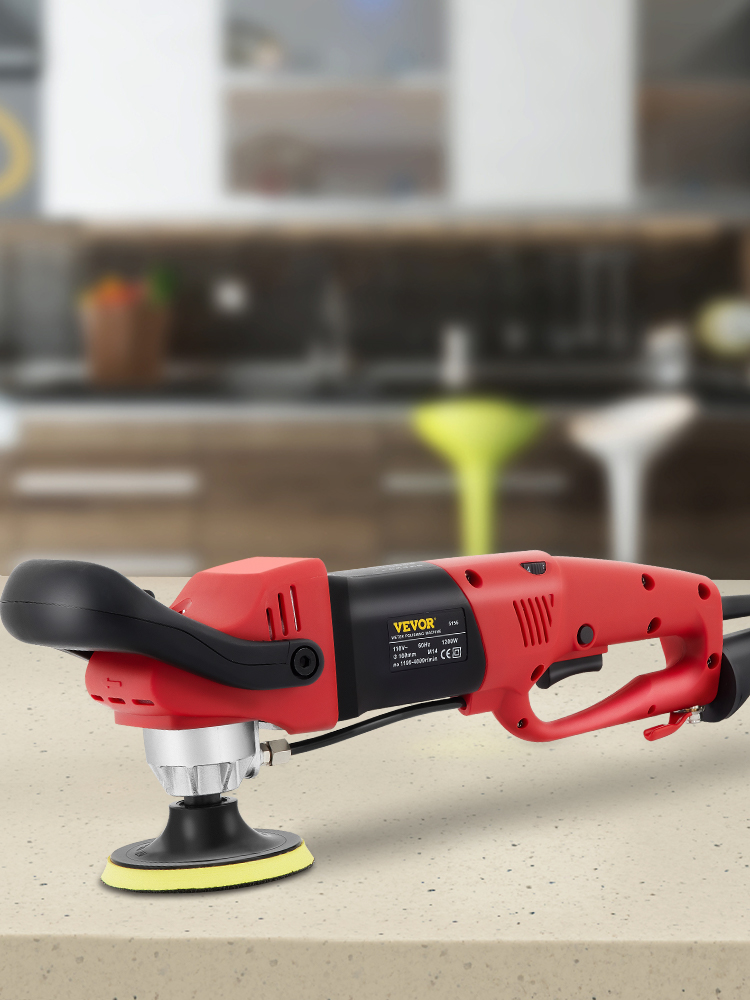 Electronic Wet Stone Polisher
Extra 5" Millstone & Splash Shield & User-friendly Handle

Our VEVOR polishing kit is a favorite for professional stonework. The M14 polishing kit combines 1200W power and variable speed control with optimum speed settings, soft start for smooth start-ups, and more. It is a rapid and powerful stone polisher with precision engineering for professional stone finish work. Whoever said take your time just wasn't fast enough. Our polisher will get the job done reliably, securely, and quickly.
Enhanced Electrical Security
6 Variable Speeds
Comfortable to Use
Ergonomic Design
Tough Equipment & Tools, Pay Less
VEVOR is a leading brand that specializes in equipment and tools. Along with thousands of motivated

employees, VEVOR is dedicated to providing our customers with tough equipment & tools at incredibly

low prices. Today, VEVOR's products are sold in more than 200 countries and regions with 10 million

plus members worldwide.
Why Choose VEVOR?
Premium Tough Quality
Incredibly Low Prices
Fast & Secure Delivery
30-Day Free Returns
24/7 Attentive Service
Key Features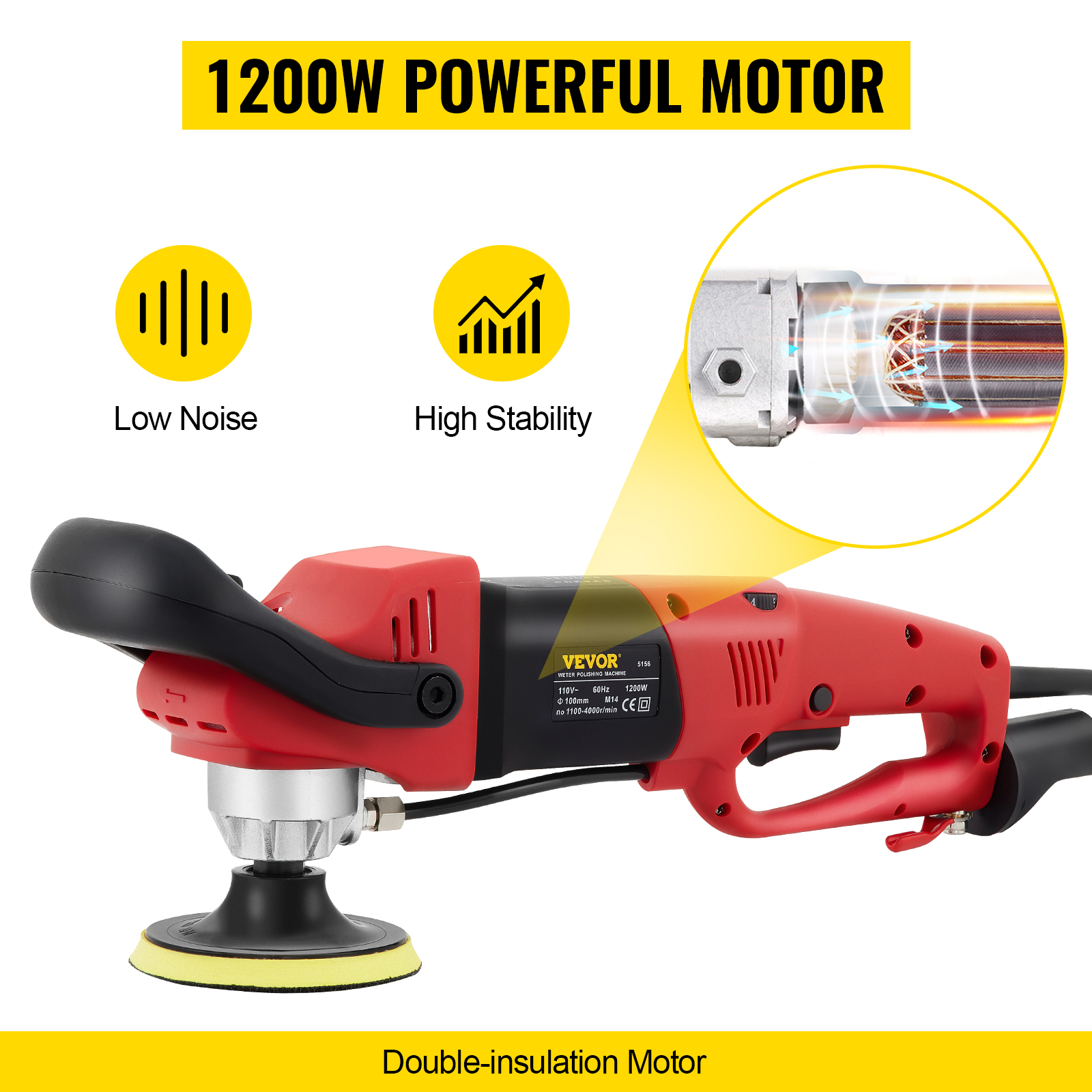 1200W Powerful Motor
1200W powerful motor drives the polisher up to a high speed, offering you strong polishing force and significant polishing effect.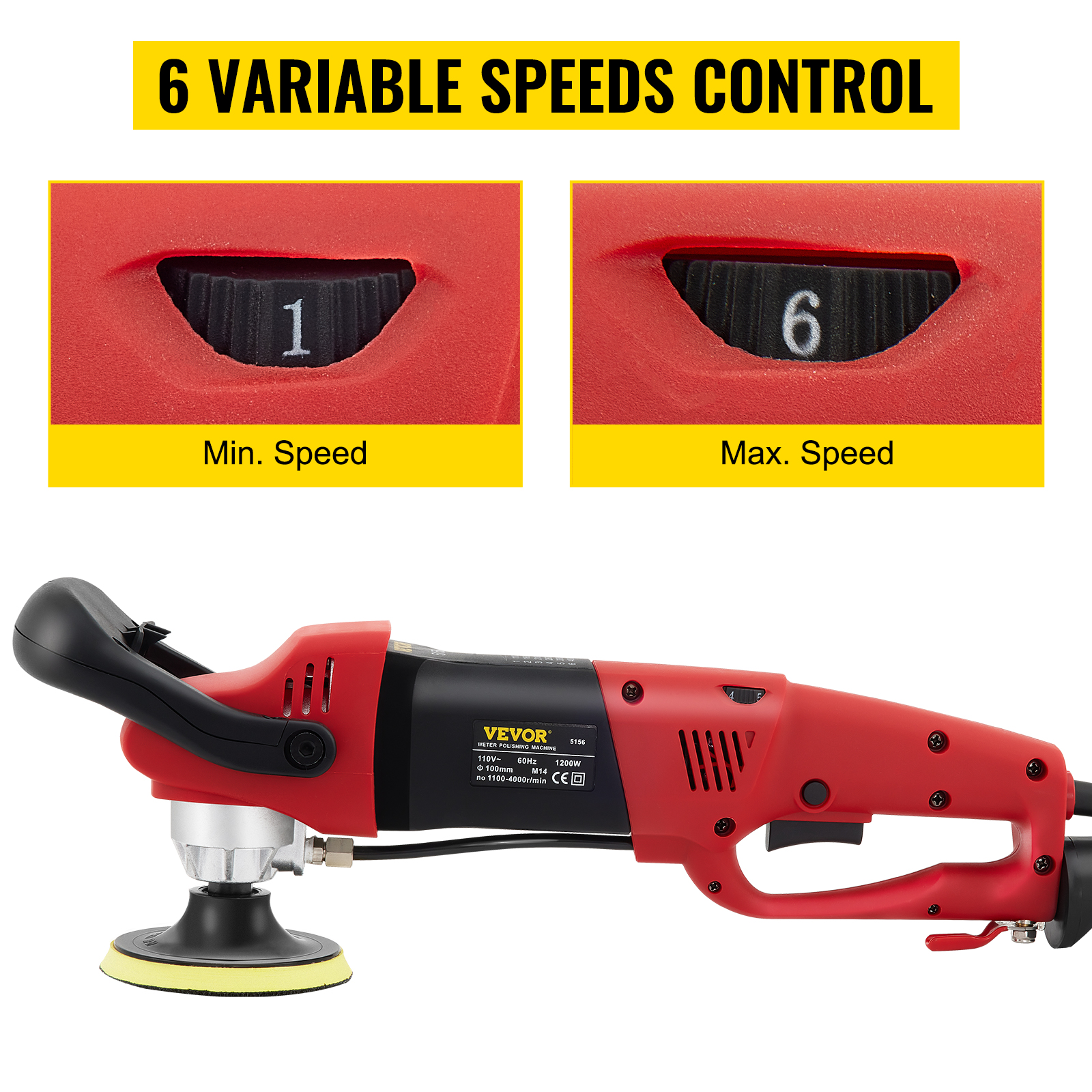 6 Variable Speeds Control
The wet stone polisher with six-speed settings from 1100–4200 rpm, variable dial control to content multiple required speeds for polishing, buffing, and sanding.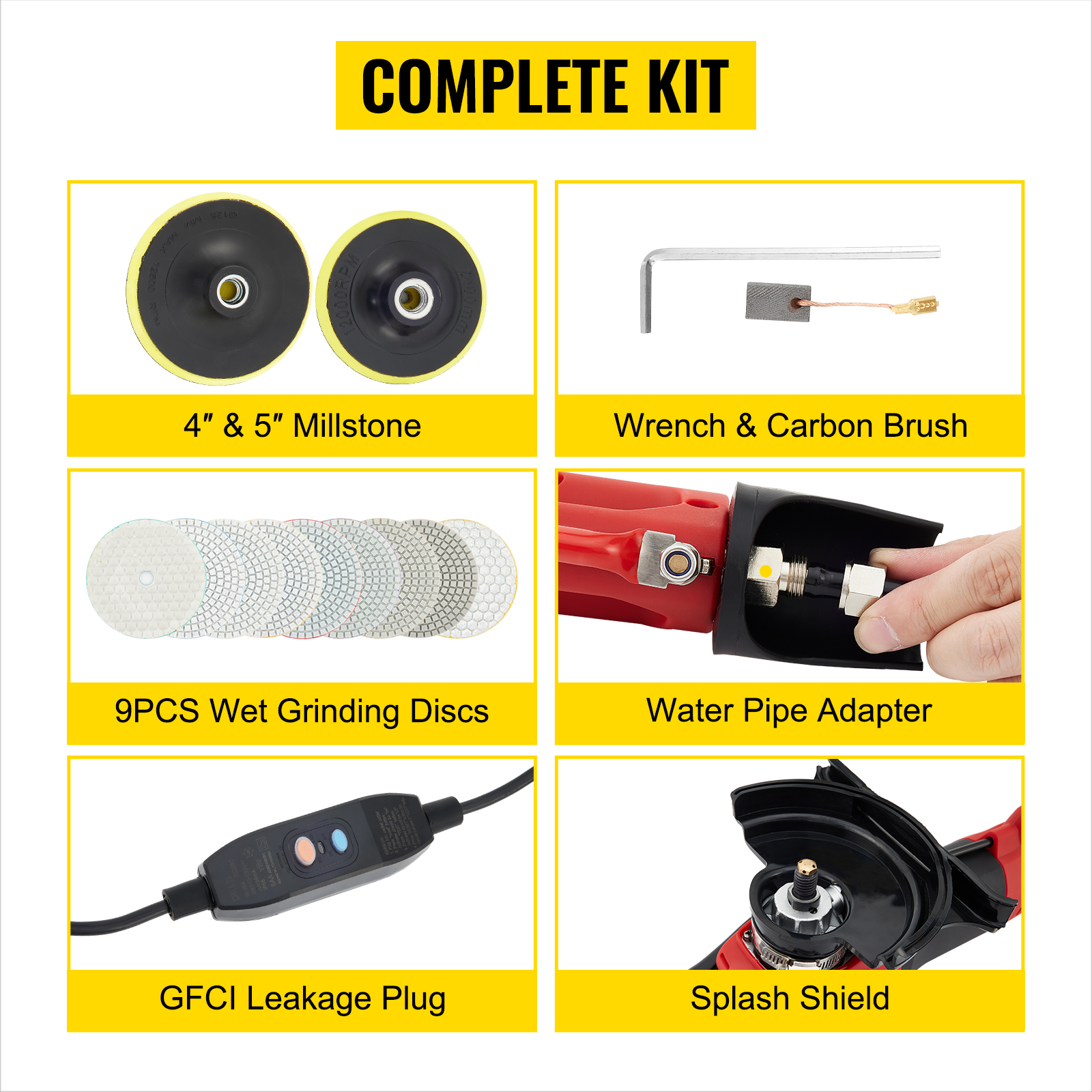 Complete Accessories
Our granite tool contains a wealth of accessories, including 2 pcs millstones, 9 pcs wet polishing discs, a GFCI plug, an Allen key, a carbon brush, a 78.7" pipe connector, a side handle, and a splash shield.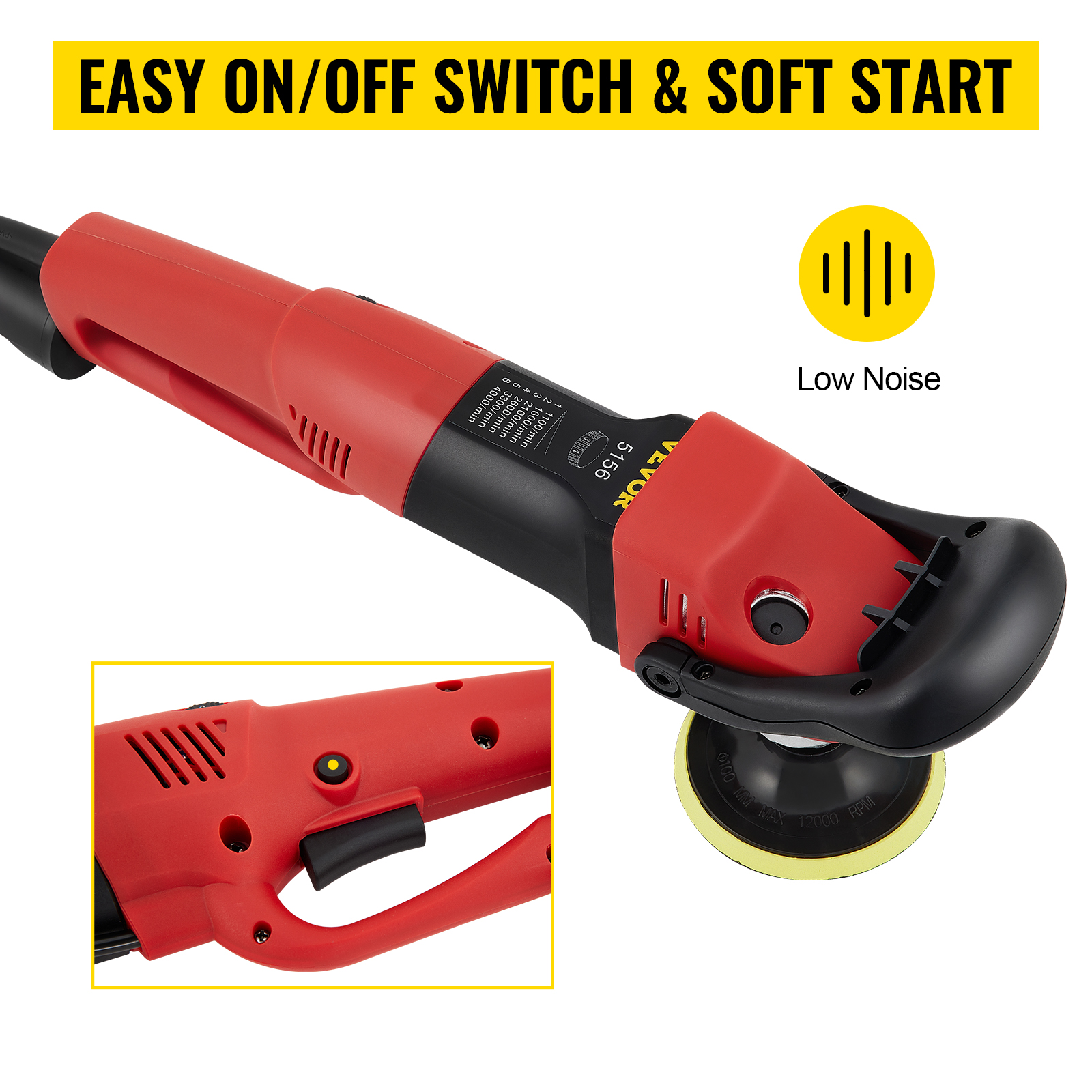 Easy On/Off Switch & Soft Start
This polisher's internal components and machine configuration are finely balanced for superior ease of use. Soft-start provides a jerk-free start to wet stone /concrete polisher.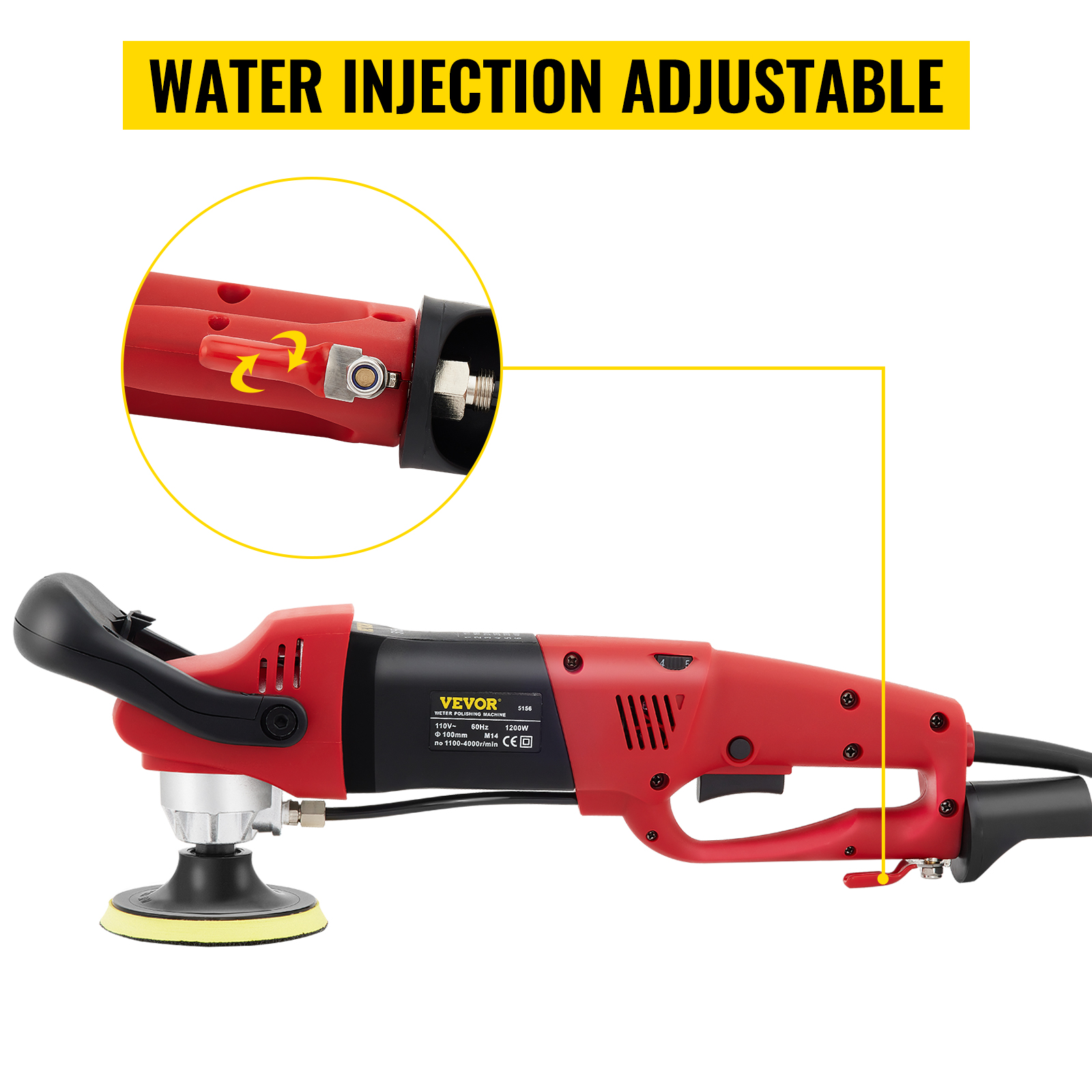 Water Injection Adjustable
The copper water injection switch can be used to control the size of the water flow according to your requirements. The superior copper material is not liable to warp and is rust-proof.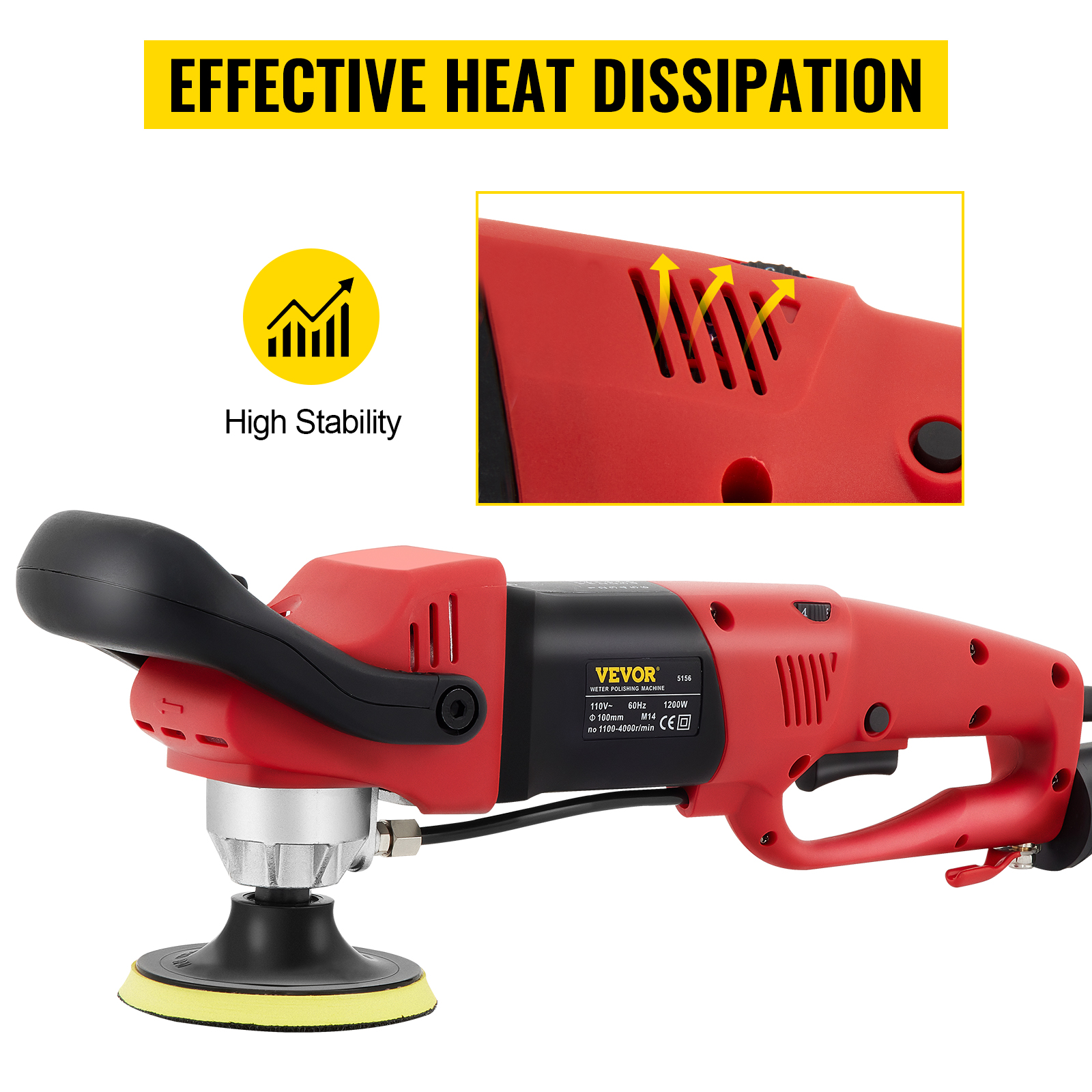 Effective Heat Dissipation
The polishing machine has a system that adopts a circulating heat dissipation system that sucks up and down to help reduce the surface temperature.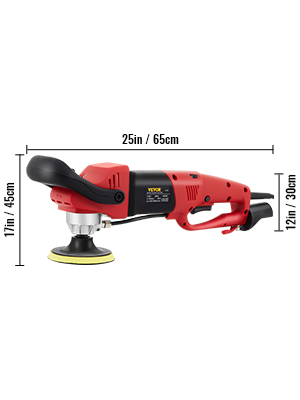 Specifications
Model: YMK40101
Model: Wet Polisher 9pcs Pads
Color: Red
Material: Aluminum
Water Injection Mode: Low
Power: 1200W
Volt: 110V 50-60 Hz
Polishing Wheel Diameter: 4" / 100 mm
No-Load Speed: 1100 - 4200 RPM
Output Thread: M14
Adjustable Shift Gears: 6
Water Injection Holes: 3
Water Pipe: 78.7" / 2 m
Net Weight: 8.5 lbs / 3.9 kg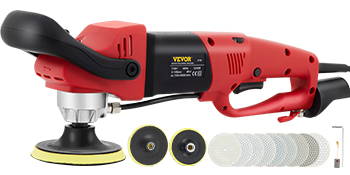 Package Content
1 x Wet Polisher Grinder
7 x Wet Grinding Discs (50# / 100# / 200# / 400# / 800# / 1500# / 3000#)
2 x Dry Polishing Pads
2 x Millstones (4" & 5")
1 x GFCI Leakage Plug
1 x Allen Key
1 x Carbon Brush
1 x 78.7" Pipe Connector
1 x Side Handle
1 x Slash Shield
Features & Details
【Enhanced Electrical Security】: Class-A GFCI and leakage protection for enhanced electrical security to safeguard against hazardous electrical shock. Features a rubber handle sleeve, double insulation, extra-long 78.7-inch industrial grade electrical cable, ensuring a secure user experience.
【6 Variable Speeds】: Our concrete polisher with a 1200W powerful motor features optimal wet polisher polishing speed, from 1100 RPM to 4200 RPM. One finger can be used to control the speed switch during use, meeting all your requirements. The variable speed grinder polisher features a variable dial control to match the necessary speed for stone concrete wet polishing.
【Comfortable to Use】: This polishing fabrication tool kit is equipped with a water flow control. You can turn the valve on the top to regulate the amount of water. A unique waterproof security shield can avoid electric shock. Three-hole water heads are each placed at 120 degrees for even and adequate water distribution. The sander tool comes with essential accessories, including millstones, 9 pcs wet polishing pads, a GFCI plug, a pipe connector, and related fittings, to facilitate hassle-free operating.
【Ergonomic Design】: All the handles (Back & Top & Side Handle) are designed with you in mind, ensuring extended use and comfortable operation. The top handle quickly provides adequate pressure on the surface for the best polishing result. An extra side handle can supply more power and make the process more stable. Head heavy polisher transfers maximum weight onto polishing surfaces to polishing more accessible, better, and faster.
【Versatile Application】: The granite polishing kit is designed for the concrete countertop, stone countertop, floor surface, marble, and ceramic tile wet polishing. Compared with the traditional water mill, the operation is simple, the efficiency is high, and the cost is low. Common M14 output thread is compatible with most polishing pads on the market.